The Blue Bay Farm Festival is a fun historical Kent Island themed event for the whole family. There will be games and entertainment for all ages and delicious food from local restaurants, farms and watermen as well as cider, local beers and wine. All children's activities and food items are free and adult tickets include food from local restaurants utilizing indigenous ingredients. This will be a fun day in the sun for all with local artisans, music and entertainment. The event takes place at one of Kent Island's most important historical farms on the Chesapeake Bay just over the Bay Bridge, 15 minutes from Annapolis and convenient to all of the Eastern Shore. Come spend a fun day on the bay to benefit The McArdle School! For each adult ticket purchased up to two complementary children's passes can be reserved.

The event is from Noon to Sunset. Feel free to stay to enjoy an amazing view of the Chesapeake Bay sunset with us. The McArdle School is a non profit that provides therapy and a year round school for young children with autism.

We will have a petting zoo by Cowboy Barry and Dandy with goats, sheep, pigs, chickens, ducks, geese and turkeys for the enjoyment of the children. There will be face painting, games, crafts and hot dogs, snow cones, cotton candy and popcorn and chips for the kids as well. All food and activities for kids are free. Up to 2 complementary children's passes will be provided with each adult ticket.

This is held at a private residence off of Love Point Rd, you will be emailed the address upon purchase of your ticket. Ticket info here: http://www.bluebayfest.com

The 10th Annual Island Bad Day Music Fest will be held Saturday September 24th at Red Eyes Dock Bar. Bands include: Blackfoot, Charm City Devils, Korupt, Aphelion, Chesapeake Sons, Linwood Taylor, Derek St Holmes, Love in Vein, Lions Den, Sleep Thru Sunday, When Worldz Collide, Hot Tub Duo, J. Coursey Willis, and more. It's a celebration of live music in our area with national, regional, and local artists. Don't miss it. Tickets are limited and on sale now at Vape Bird in Stevensville, Western Tire & Auto in both Stevensville and Centreville, Shipwrecked in Grasonville, and online at IslandBayDay.com

Come check out the arena with its new facelift and offerings. We hope to see many of your faces there. Headline event is shaping up to be the QAC Sheriff's Office taking on the KI Volunteer Fire Department in a Kickball match. This should be a lot of fun for the entire family.


2016 Across the Bay 10K:
November 6, 2016

2016 Across the Bay 10K will be Nov 6th. The pre-race Expo will be held at the Navy Marine Corps Stadium in Annapolis on Friday, November 4th from 10a.m.-6p.m. and Saturday November 5th from 10a.m.-6p.m. The Expo is where each participant will pick up their race bib packet, tee shirt, parking pass. Please note: If you ordered the bib mailing option, your shirt will be mailed with your bib prior to the race.
Following the race, there will be an awesome after-party near the finish line on Kent Island for runners, friends and family. The celebration includes live music, great food, refreshing drinks and family friendly activities. If you are over 21years old, make sure you pick up an all you can drink bracelet during the expo for cool beer @ the finish line. All proceeds benefit the First Responders of the Kent Island Volunteer Fire Department who work year round to make this event safe for all of us!
Motorists Should Anticipate Heavy Traffic & Delays on Nov. 6 Weather permitting, the eastbound span of the Bay Bridge (US 50/301) will be closed temporarily to traffic on Sunday, Nov. 6, from approximately 12:01 a.m. - 2 p.m. Two-way traffic operations will be in place on the westbound span. One lane of traffic will operate in each direction on the westbound span, with the center lane closed to traffic. Please note that the center lane may open to traffic intermittently to help reduce westbound delays
In addition, two detours will be in place on the Eastern Shore due to the race.
The off-ramp from US 50 eastbound to MD 8 will be closed during the event. A detour will be in place to direct motorists to the next exit at Thompson Creek Road. From there, motorists will travel westbound on MD 835 to the signal at MD 8
The on-ramp from MD 8 to westbound US 50 also will be closed during the event. All traffic attempting to access westbound US 50 will be directed to MD 18, to the roundabout at Castle Marina Road and onto US 50 west.
Motorists using the Bay Bridge on Nov. 6 will experience significant delays throughout the day and early evening. To avoid delays, motorists are urged to travel prior to 6 a.m. or after 6 p.m.


The Chesapeake Blue Crabs Baseball Team Win Big:
Posted April 11, 2016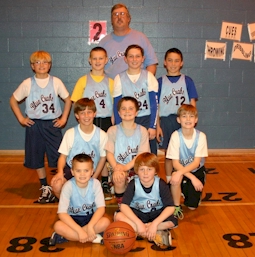 The Chesapeake Blue Crabs, a 9U Kent Island travel basketball team, recently won the Anne Arundel County 9U basketball championship. Congratulations to Brett, Jacob, John, Hunter, Adam, Jake, Nate, Caleb, Tristan and coach Charles Hoffman.


Applications for affordable apartment rentals at The Promenade at Red Apple Town Center:
Posted March, 2016

Applications for affordable apartment rentals at The Promenade at Red Apple Town Center are now being accepted for the 2016/2017 year under the county's Moderately Priced Dwelling Unit (MPDU) Rental Program. The offerings are one-bedroom apartments and it is estimated openings will become available in early summer.

This program is available to moderate income residents defined as those who make 80 percent or less of the HUD Median Family Income rates (established yearly) for Queen Anne's County. Current rates are set as $46,100 gross income for one person, and $52,650, gross income for a family of two.
Applicants must apply for a certificate of eligibility from the Division of Housing and Community Services. Once issued a certificate, they must contact the apartment manager for The Promenade at Red Apple plaza for certification under their rental process. MPDU Rental applicants are awarded certificates on a point system consisting of date of certification; residency (1 point) employment within the county (1 point); and Critical Workforce status (2 points). Critical Workforce employees are defined as: teachers, detention center employees, volunteer fire-fighters, emergency medical technicians and law enforcement employees.
This program was established under Article XXI: Inclusionary Housing § 18:1-108 of the Queen Anne's County Code whereby developments subject to this article must designate at least 10 percent of their units as Moderately Priced Dwelling Units.
To receive an application packet, please contact the Queen Anne's County Department of Community Services, Division of Housing and Community, attention Candice Darling, Housing Program Administrator. Applications are accepted by phone (410) 758-3977 x 2070, or by Email: cdarling@qac.org


"QAC's Senior Centers Now Available to Ages 55 and Older">:
Posted March 2016

The Area Agency on Aging and Commission on Aging are pleased to announce that anyone 55 years and older may now become a member of the Queen Anne's County Senior Centers: Grasonville, Kent Island, and Sudlersville. The previous age to join was for those 60 and older. Now anyone 55 and older may become a member and utilize many resources available to them at the centers. Fitness equipment, clubs, benefits counselors, and classes are just a few of what the senior centers have to offer. There is no cost to join, although individuals ages 55-59 must pay full price when having lunch, and will pay a higher cost to participate in Chesapeake College classes offered at the centers. For more information, visit our website www.qac.org, or contact: Annie Sparks, Senior Center Administrator, at 410-758-0848 ext. 2715 or asparks@qac.org.


Grow Your Business - 3 Vital Workshops for Entrepreneurs & Small Business Owners:
Spring, 2016

1. Business Planning and Funding:
Experts show you how to craft a business plan and secure financing. March 16, 6-9 PM, Queen Anne's County Heritage & Visitor Center.

2. Using Social Media in Small Business:
Learn from the specialist how to market your business for free while cultivating a loyal customer base using social media.
April 6, 6-9 PM, Queen Anne's County Heritage & Visitor Center.

3. Mastering QuickBooks:
Learn how to streamline your bookkeeping, revenue, expenses, billing, receipts and taxes using QuickBooks.
May 4, 6-9PM, Queen Anne's County Heritage & Visitor Center.

$10 per workshop or $25 for all three. Reserve by phone, 410-604-8530, or Email linda@qacchamber.com

Sponsored and hosted by the QAC Dept. of Economic Development and the Upper Shore Chapter of SCORE.


Island Bay Day 2016:
Saturday September 24, 2016

The biggest live music event on the 'Shore is back and celebrating it's 10th Anniversary! Island Bay Day is bringing back some of their favorite bands from their 10 year history and a few new surprises too! The band lineup will be announced soon...
Island Bay Day will take place at Red Eyes Dock Bar on 8/24 from 11:30AM until Midnight. Proceeds benefit local charities. This year will be very special for many reasons, don't miss it!

More info at www.islandbayday.com


Creating Painted Mosaic Birdhouses:
April 30, 2016

Saturday April 30, 2016 3:00pm at the Kent Island Library Creating painted mosaic birdhouses with artist Candace Liccione from Wye River design. Free for registered children grades 2-5. Register online at http://www.calendar.qaclibrary.org Funded in part by the Queen Anne's County Arts Council.

Money Talks - Free Financial Seminars for Seniors:
Spring, 2016

Money Talks: Financial Seminars for Seniors is a series of workshops offered at Grasonville Senior Center. Presented by William Caughey of Edward Jones, these free seminars are scheduled for the second Tuesday of each month through March 2016, 10:30 a.m. – 12:00 p.m. Focused on Fixed Income & Market Update explains the basics of fixed income investments, the seven characteristics of, the advantages of laddering, and how fixed income may be part of your investment strategy. This Seminar is open to all and will take place Tuesday Jan. 12, 2016.
Interested participants may call Ann Martin (410) 827-6010 to register in advance.


Cross Island Trail extending to Grasonville:
Re-Posted January, 2016

Gov. Hogan has approved the funding as of 1/16! The Cross Island Trail will be extending to Grasonville thanks to a state grant of more than $3 million.

The connecter trail will be north of Route 50 and will be 1.2 miles long; beginning at Kent Narrows Bridge and continuing to Long Point Park in Grasonville.

The scenic trail is to be predominantly boardwalk over marshlands and water and will include observation areas.

This is a section of a Cross County Connector Trail which has a long term plan to begin at the Chesapeake Bay and end at Tuckahoe State Park.

The $3,431,084 grant is from the Maryland Department of Transportation, which also granted the county another $30,000 for boardwalk repair and sealcoating of the Cross Island Trail.

All told, Governor Larry Hogan announced that the state was granting $14.9 million in grants statewide for bicycle, pedestrian and multi-use trails across the state.


Teenager Bailey Quinn Rides Cross Country to Raise Money for Cancer Charity:
Posted September 21, 2015

After completing a 70 day, 4,000+ mile bike ride from Baltimore to Seattle and raising $4,550 for a cancer charity, Stevensville native Bailey Quinn was recognized with a proclamation by the Queen Anne's County Commissioners August 26th.

The funds Quinn raised go to the 4K for Cancer, a program of the Ulman Cancer Fund for Young Adults, which is dedicated to changing lives by creating a community of support for young adults, and their loved ones, as they fight cancer and embrace survivorship.

On his 4K for Cancer website Quinn explained, "Throughout my life I've seen not just my family, but others as well, cope with the loss of a loved one to cancer. It's a devastating, helpless feeling inside that stays with a person. I've had several relatives diagnosed, from grandparents, to aunts and uncles, and it never gets any easier. Seeing loved ones in pain, and fighting just to stay alive is an extremely humbling experience, and allows me to gain some perspective on the big picture. We all have something to gain by finding cures to help our loved ones."

"This is an incredible chance to not only travel across the U.S and see the nation in a different perspective, but also to contribute to a cause that is helping cancer patients every day.," stated Quinn,. "By raising funds for research aiming to find different cures for cancer, hopefully I can help someone who is in this fight. Meeting those who have beaten cancer, and also those currently fighting will definitely change my outlook on things, and fuel my desire to accomplish this cross country trip."

Quinn departed Baltimore's Inner Harbor on May 31, 2015 and rode into the heart of central Pennsylvania over the Appalachian Mountains. From Central PA, he headed toward the Great Lakes and then travel north through Michigan and around the lake to Chicago. From the Windy city, he traveled west through Wisconsin, Minnesota, and South Dakota until he reach the Badlands and Mt Rushmore. After the Badlands, he headed north through Montana to Glacier National Park before tackling the North Cascades into Washington State and the Pacific Ocean. His ride finished up in the historic Pikes Place Market in Seattle on August 8th.


QAC Basketball Leagues:
Posted September 21, 2015

YOUTH BASKETBALL LEAGUES, AGES 6 – 9

Leagues for Co-Rec ages 6 – 7 and boys and girls 8 – 9 are offered at four elementary schools: Sudlersville, Centreville, Grasonville and Stevensville area. Weekday practices and Saturday games are held throughout the county. Once teams are formed, coaches will notify all players of practice times and dates. The leagues play games from January – March, 2016. Playing ages determined as of September 1, 2015. Note: Grasonville Area – home court for games is Stevensville Area Elementary. Registration Deadline: September 25, 2015. Registrations received after this date will be charged a $15 late fee. Cost is $90 Please visit our website or call our office for more details….

YOUTH BASKETBALL LEAGUES, AGES 10 – 17

Boys and Girls Leagues for ages 10 – 11, 12 – 13 and 14 -17 Sign up for Sudlersville / Church Hill, Centreville, or Stevensville area. Practices start in December at local schools; games are December – March, 2016, on Saturdays at county middle schools. Playing ages determined as of September 1, 2015. Once teams are formed, coaches will notify all players of practice times and dates. Registration Deadline: September 25, 2015. Registrations received after this date will be charged a $15 late fee. Cost $100. Please visit our website or call our office for more details.

104 Powell Street
Centreville, MD 21617 - 410.758.4489


QAC Child Abuse Response & Evaluation Center:
Re-Posted January 10, 2016

Looking for something rewarding to do? Join the CARE Center's "Because We Care" Committee. The CARE Center, Queen Anne's County's child advocacy center is seeking volunteers - parents, child advocates, community leaders, anyone wanting to make a difference - to help organize and implement fundraising events, garner community support, and lend a hand to ensure the ongoing success of the CARE Center and its mission.

Are you creative, talented, energetic or just plain helpful to have around? Help plan and implement our next event! If you would like to join or visit with the Because We Care committee, call us at 410 758-2533. The CARE Center coordinates the response to suspected child abuse cases by increasing communication among professional agencies. These efforts work to ensure that victims of child sexual abuse/assault and their non-offending caregivers have access to supports and services in a safe, culturally respectful environment. To learn more about CARE, visit qaccare.org


RESET Program "early intervention" opportunity:
Posted July 29, 2015

Peer Pressure, Poor Grades, Curfew, Disrespect to Family, Friendship concerns - RESET Program offers an "early intervention" opportunity for parents of teens/young adults between the ages of 10-24 Years.

Enrollment or additional information, please call 443-995-5367. For more information visit: www.resetmaryland.com


KIO Owner Interviewed on QACTV Channel 7:
Posted Summer 2015


The Judy Center Happenings:
Posted 2016

There's lots more going on at the Judy Center.....

Vocabulary Improvement and Oral Language Enrichment Through Stories (VIOLETS) is an outreach program sponsored by the Judy Center conducted two times/week using our mobile classroom the (Judy Center) Fun Bus.

Adult Education classes are underway at Sudlersville Elementary School. These classes are possible via a collaboration with Chesapeake College, Sudlersville Elementary School (SES), the Judy Center, and local childcare providers. These classes will be offered during the school year and follow the Queen Anne's County School, and Chesapeake College class calendars.

Computer Literacy Series-The Judy Center, Queen Anne's County Migrant Education Dept., SES, Title I, Annette DiMaggio, SES PTA Vice President, and local Maryland Food bank contact, and local childcare providers have collaborated to conduct a monthly computer literacy series in an effort to assist SES students and parents learn more about technology being used in the classroom. Sean McCabe, Centreville Middle School teacher will provide instruction to parents and children in an effort to assist all parents in becoming more informed of technology in the class, and the home. Dinner will be provided prior to the sessions courtesy of the Judy Center, Migrant Education Dept., and Annette DiMaggio. Childcare will be provided by the Judy Center for younger children enrolled in the Judy Center.

Social and Emotional Foundations of Early Learning (SEFEL)-The Judy Center is working with teachers, partnering staff, and parents to help promote the utilization of SEFEL practices. Our program goal is that SEFEL practices are being used in early learning environments such as the classroom, playgroup, and home. SEFEL lessons are also provided to partnering programs during professional development opportunities sponsored throughout the school year.

Dolly Parton Imagination Library (Imagination Library)-The Judy Center Partnership is continuing to enroll young children in the Imagination Library in an effort to promote school readiness for young children. This exciting new initiative allows the Judy Center Partnership to provide books to children every month until they reach age of 5 with the hope of assisting families in building home libraries. Books are mailed to each child directly from the publisher at a cost of $25/year, per child. Funding for this new initiative is provided by the Judy Center, the Centreville Rotary Club, and the Educare Fund. We are pleased to announce the Children's Council as our newest sponsor with a yearly commitment to this new initiative.

Judy Center Partnership
300 South Church Street, Sudlersville, MD 21668 - (410) 438-3887


Boating safety:
Fall, 2015

Boating safety has become an increasingly important issue throughout Maryland waters. The Maryland Safe Boating Certification (MSBC) course covers knowledge that is basic for recreational boat operations, and includes: State boating safety laws and regulations, basic operational concepts, navigational aids, emergency procedures, and marine safety equipment. The instructor, a graduate of the United States Merchant Marine Academy, is a Reserve Officer with the Maryland Natural Resources Police. Anyone born on or after 1 July 1972, when operating a boat in Maryland waters, is required to carry the Certificate that will be issued upon successful completion of this course's examination. Pre-registration is required. Cost $25.00.

Kramer Center (3 evenings)
Dates: Monday, Nov. 9th, Tuesday, Nov. 10th and Thursday, Nov. 12th
Times: 6:00 p.m. – 9:00 p.m.
Program#: 605013
More Info: jbrooks@qac.org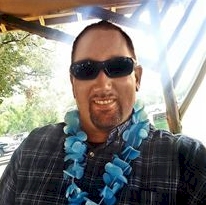 It is with great sadness that I inform you of Larry Milanovich owner of Midadlantic dryject untimely death on 6/12/15. Larry who was only 36 is survived by his beautiful wife Katy and new born son Samuel. Larry and Katy live in cloverfields, Stevensville

We are all devastated by this tragic loss. As Larry and Katy just started their family, they were in the process of getting life insurance but never had a chance to finish the paper work.

I ask you to remember Larry for his kind smile, great personality, and great dedication to his family and business Midatlanticdryject. I ask you to please help his now widow and new born son as they try to figure out life without him. Please see the gofundme account link below to donate. Every little bit helps.

Thank you in advance for all your support

https://funds.gofundme.com/dashboard/wwc4yjw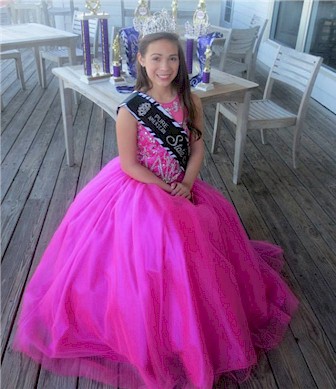 Casey Curry (12) of Centreville crowned with a dual title in the PURE American Pageant System!:
Posted June 15, 2015

On May 2nd, 2015, Casey Curry (12) of Centreville, MD, daughter of Tiffany Curry and Jeff Burnett, was crowned with a dual title in the PURE American Pageant System. Casey is the 2015 PURE American Young Maryland Sweetheart and 2015 PURE American Maryland Cover Model. In addition to her main titles, she also won the following optional contests: Peoples Choice, Photogenic, Portfolio, Actress and Spokes Model. Casey is thrilled to have earned her titles and is looking forward to representing not only Maryland, but Centreville and Queen Anne's county at the PURE American National Pageant this July in Orlando, Florida.

Pure American Pageants strives to promote the values of good self-esteem and self-confidence in women and girls of all ages. They encourage dreams and give their ladies the tools and opportunities needed to achieve them. They strive to teach strong professional qualities so ladies can be more effective and efficient workers in the professional world.

By using positive words and actions, they hope to transform lives and aid individuals in their personal growth. They encourage our contestants to "INSPIRE! LEAD! ACHIEVE!" and make their mark in life.

At Pure American Pageants every girl can be herself. They want everyone to make new friends and memories to last a lifetime! Their friendly and courteous staff will be with the girls and ladies every step of the way--from the preliminary pageant through the national competition. Their goal is to make a positive difference in the lives of everyone they touch. They encourage good sportsmanship and emphasize good interview and public speaking skills while helping the contestant to learn more about her own style and fashion.

Casey has already taken away so much from this wonderful organization. She volunteers with the Chesapeake Cats & Dogs Foundation and Dandyland pet care center on a regular basis. She has a heart for animals and taking care of them. Casey's platform is about animal advocacy and giving all pets a "fur" ever home. Casey is using her title as the PURE American Young Maryland Sweetheart and Cover Model to help get her message out about animal advocacy, adoption and fostering.

Please consider giving an animal a home! What you'll get in return from them is priceless!


Here's What's Happening at The Edge Training Academy:
Ongoing in 2016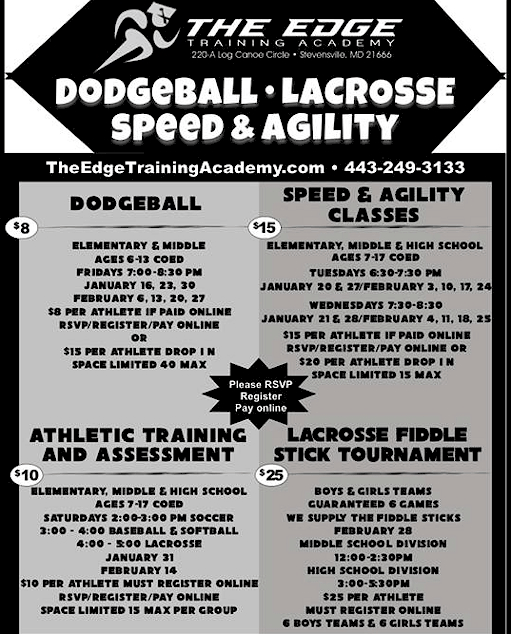 Queen Anne's County Arts Council Summer Class Schedule:
Summer 2016

Looking for fun & creative activities the whole family can enjoy ~ Check out our summer class offerings!
Students can learn to draw, dance, paint, make jewelry, design mosaics, get fit, and much more. Talented artist instructors Steven Bleinberger, Kurt Plenke, and Ric Conn are offering painting classes in watercolors and gouache for all ages and talent levels. Candace Liccione is again offering a variety of one day workshops that will help you create unique works of art to display and to wear.

Want to improve your photography skills – look no farther! With the ease of smart phones and digital cameras, we can snap and share all day long! But taking good photos is a different matter. Join New York based photographer Amanda Lessner as she takes you past the Auto Mode setting on your DSLR camera with her "Mom Can Shoot" course! Amanda is an accomplished photographer specializing in family, child, and newborn portraits. We are also pleased to welcome back Jay Fleming, known for his passionate photography of our Eastern Shore treasures, as he provides hands on instruction in an outdoor setting.

Challenge your mind and body! Come and get fit and have fun every Tuesday and Thursday in our Zumba class with popular instructor Heather Efland! Sign up to learn tools and techniques to research your genealogy with Catherine Wilson.

We've got something to cure the summer blues for your little ones too! We have teamed up with the Chesapeake YMCA to offer a variety of kids' camps - Messy Masterpieces, QAC Players Theatre, and 2D Art will keep them and YOU smiling all summer long! Maria Sage is back by popular demand with her Creativity Art Camp. Young Picassos will create a different project each day using a variety of art materials and techniques with watercolor, tempera, and oil pastels. The projects your little artist will bring home are sure to be treasured heirlooms!

We are now offering private Birthday Paintbrush Parties for kids 8 and up! You can decorate anyway you like and party goers will each create a work of art to take home. It's a great way to celebrate and is perfect for ALL skill levels.

Visit http://www.queenannescountyarts.com for our full class listing. You can register on our website or call the Arts Council at 410-758-2520. Classes are held at the Queen Anne's County Centre for the Arts, 206 S. Commerce Street, Centreville, MD 21617 unless otherwise noted.

Taylor's Fresh Organics Delivers:
Spring / Summer 2016

Our local family farm is dedicated to providing healthy, organic, real vegetables and fruits for your family - while building a sustainable future together with our community. We are a certified organic fifth generation Eastern Shore farm. Get 20 weeks of locally grown produce, starting mid-May at $25 a week full share or $13.75 a week half share.
Call Madelin Berger at 443-515-0323 for farm-fresh, locally grown produce delivered every week, all season long and visit us online at: www.taylorsfreshorganics.com


Queen Anne's County Arts Council Offering Wildlife and Nature Art Classes:
Summer 2016

We have a variety of classes highlighting wildlife and the outdoors this summer. Our skilled instructors are offering classes designed to renew existing artistic interests and develop new skills. Classes are limited in size to ensure quality individual instruction.

Some people say watercolors are difficult. Local Artist Instructor Kurt Plinke disagrees. Over 30 years of painting in this medium, he's found that it can be learned easily and that watercolor can be a blast. Kurt Plinke makes painting wildlife fun, easy, and understandable with simple-to-learn basic watercolor techniques with two workshops at Centre for the Arts. Painting an Eastern Shore Landscape will be held May 30th from 11 am to 5 pm. Join Plinke as he paints a typical Eastern Shore landscape including fields, barns and distant trees. Plinke returns to the Centre on June 27th for Painting a Bird which will be held from 11 am to 5 pm. Plinke will also teach an 8 week course in painting Watercolors and Wildlife on Thursdays from 6-9 pm June 11 thru July 30.

Talented Artist Instructor Ric Conn will teach beginning and advanced classes in Painting Birds in Gouache. Designed to increase technical and compositional skills, these classes will also aid students to recognize features necessary for realistic depiction of not only birds but all wildlife. The beginning class will run 5 weeks on Tuesdays from 10 am to 12 pm, June 2 thru 30. The advanced class will run for 6 weeks Tuesdays from 10 am to 12 pm July 7 thru August 18.

Finally, join award winning artist and instructor Steve Bleinberger for a workshop that will show you how to paint Beautiful Skies and Dramatic Clouds in watercolor on June 3rd 10 am - 4 pm.

Receive discounts on events & classes by signing up for a yearly membership now - $25 individual/$35 family. Visit www.queenannescountyarts.com for our full listing of classes and events. You can register on our website or call the Arts Council at 410-758-2520. Classes are held at the Queen Anne's County Centre for the Arts, 206 S. Commerce Street, Centreville, MD 21617 unless otherwise noted.


1st Alert CPR Training:
Ongoing in 2016

1st Alert CPR Training located near Easton, MD We are career firemen/EMT's that know the importance of good training. As American Heart Association instructors we believe that everyone can benefit from CPR and first aid training. 2-year certifications and we can come to you or classes in the Preston area. Call Jay 443-496-2464 or Email 1stalertcpr@comcast.net for more information.

Tuesday Evenings - Harmony On The Bay:
Tuesday Evenings in 2016

Harmony on the Bay is a Sweet Adeline Chorus. New members are welcome to learn and sing popular tunes in four-part harmony. Join us on Tuesday evenings at 7:15pm, Centreville United Methodist Church in Centreville, 608 Church Hill Road (Rt. 213) For more information call Claudia 410-924-0013 or Joanne 410-763-7920.


The Vipers have arrived on the Eastern Shore!!:
Upcoming 2016 Season

CBC/Island Elite All Stars are now Vipers Cheer & Dance!! Check out our Website for information on our Summer Camps, Tryout Dates, and Open Gym! http://www.viperallstars.com/index.php


RESET Program:
Ongoing in 2016

Our youth and young adults are being offered a drug and alcohol educational experience to change their behavior and attitudes. The RESET program is an alternative sentencing option for the judicial system. Parents may also enroll their teenagers without an arrest taking place allowing RESET as an early intervention.
RESET serves 14 to 24 year olds who have fallen victim to drug and alcohol use or are "at risk". The program serves as an alternative sentencing option or condition of probation by the Courts. RESET is an early intervention education program involving many agencies, volunteers, professionals and facilities. The program serves the upper shore counties.

The program is presented on three Friday nights and one Saturday night, utilizing the Queen Anne's County Sheriff's Office, Chester River Hospital, Queen Anne's Circuit Courthouse and the Queen Anne's County Detention Center. Classes begin promptly at 5:45 pm and end at 9:00 pm. The next classes begin May 20th and conclude on June 3rd.

The September class will begin in Kent County at the 911 Center and then utilize the normal locations for conclusion of the program.


Adult Home Bible Study:
Ongoing in 2016

Adult Home Bible Study forming soon on Kent Island. Call 443-249-3534 for more information. Thoroughly Christian (not a cult), just honest Bible Study for beginners through scholars alike. Come check out God's Word!


Chesapeake Voyagers, Inc. Seeks Board of Directors Members:
Ongoing in 2016

Chesapeake Voyagers, Inc. (CVI) seeks volunteers to serve on its Board of Directors. Board members must live in the mid-shore region and have an interest in mental health. Preference is given to applicants who are receiving or have received mental health services. The Board of Directors, composed of both consumers of mental health services and other residents of the region having a professional or personal interest in mental health, is responsible for the governance of the organization.

CVI, a non-profit organization (501 (c)(3) pending), advocates for and supports consumers of mental health services in the mid-shore region. It provides peer support through formal programs and informal group and individual interaction at its wellness and recovery centers in the mid-shore region.
To apply for appointment to the Board of Directors, please send a letter of interest and a resume or bio to Sheila Tolliver, President, Chesapeake Voyagers, Inc., 342-C North Aurora Street, Easton, MD 21601 by June 6, 2010 (or email to sheilatolliver@gmail.com).


Queen Anne's County RESET Program:
Ongoing in 2016

Queen Anne's County RESET Program offers parents an opportunity to enroll their children who are "at risk" of becoming involved or who are involved with alcohol and minor drug use. The RESET Program mission is to change attitudes and behaviors through education. RESET serves parents, Courts, Juvenile Services, Teen Court, Board of Education, Health Department and the State's Attorney's Office in providing an intervention education for those who have been found/suspected of being involved in drug and alcohol related incidents. RESET conducts four classes (3 Friday nights and one Saturday night) providing education of short term and long term effects involving alcohol, marijuana, cocaine, heroin, ecstasy and prescription medication as well as informing the students how these drugs effect the family and the community. A visit to the Chester River Hospital educates our students learn what occurrs from accident scene to shock trauma and how drugs and alcohol may interfere with treatment. A visit to the Circuit Courtroom allows our students to learn the laws and penalties involving drugs and alcohol from State's Attorney Lance Richardson and Agent Broughton from Parole and Probation. Guest speakers also share personal experiences to provide our students with "real life" experiences from community members. A tour of the Queen Anne's County Detention Center allows our students to understand how their lifes will change and hear the details of prison life from the inmates. RESET involves homework and 100% involvement by the student. Student fee: $130. Classes are from 5:45 pm until 9:00 pm. For more information: Terry Ober 443-995-5367. Classes are conducted quarterly or as needed.


Discovery Toys are available through Barbara Thomas of Stevensville, MD:
Ongoing in 2016

Discovery Toys has offered quality educational toys and products for over 30 years, promoting learning through play. Play is the way children learn in their early years and all of the toys are designed to promote learning and development in infants through elementary school aged children. Host a party and earn free products or order online 24 hours a day at www.discoverytoyslink.com/barbthomas. Discovery Toys offers great fundraising programs, especially for businesses that need toys - daycare centers, nurseries, preschools etc. Contact Barbara for more details - barbthomas@atlanticbb.net. This is also a great opportunity to make additional income, earn money while promoting education and learning. Let me know if you would be interested in doing what I do!


Studio 180 Dance Classes:
Ongoing in 2016

Studio 180 Dance is starting the New Year with a new semester of classes for all ages, 2-adult. To view our schedule, please visit us at www.studio180dance.com. The Winter/Spring 2009 schedule is posted under classes, spring schedule. Register today to get ready for our recital in June!

Among our newest classes are:
Zumba, a latin rhythm dance exercise class for adults, Wednesdays 7-8pm and Saturday 10-11am
Pre HipHop ages 4-6, Saturday, 10-10:30am
Pre Lyrical ages 4-6, Saturday, 10:30-11am
Hip Hop 1a ages 7-11, Saturday 2-2:45pm
Modern 1a ages 7-11, Saturday 2:45-3:30pm

You may purchase a 10 class card for all classes except aerial for $180 or a 15 class card for $270. Aerial class cards are $375 for 15 classes.

For more information please visit our website at www.studio180dance.com or call us today at 410.268.5299.

Band Members Needed!
Ongoing in 2016

The Kent Island Community Band is currently looking for new members. We are looking for musicians who play trombone, euphonium, tuba and percussion, but all concert band instruments are welcomed. We rehearse on Tuesday evenings from 7pm to 8:30pm in the band room of the Stevensville Middle School, 610 Main Street, Stevensville, MD 21666. For more information, visit www.kicb.org or call Dee Dee Miller at 443-995-2297.


"Pride of the Bay Pirate Chorus:"
Ongoing in 2016


Under the direction of Tom Sterling, our local chorus includes members from all over the Eastern Shore and from other towns over the Bay Bridge.

The chorus meets every Wednesday night at 6:30 at the Cadby Theatre in the Humanities Building at Chesapeake College in Wye Mills, Maryland.

For more information please call Jack Walsh at (443) 262-9449


Sign Language Classes Offered
Ongoing in 2016

Kids Can Sign is offering sign language classes for children at the Xtreme Bounce Zone in Millersville. Classes are geared toward Babies (ages 1-24 months) and their caregivers as well as Toddlers (ages 2-4 years). Discover the many benefits of using American Sign Language (ASL) with children in a fun and relaxed environment. Signing provides pre-verbal children a way to communicate, helping to avoid frustration. It increases fine motor skills, verbal skills and literacy skills. Most of all, signing is a fun way to spend time with your child. Call today to find out more. 410-421-5843


"I Love Someone With Lymphoma" - Supporting Sarah Meyers:
Date: Ongoing in 2016

Please help local resident Sarah Meyers!
To donate directly please send to:
Sarah Meyers Fund
P.O. Box 224
Chester, MD 21619
Thanks to everyone in the community for helping out!
-Kent Island Online


CONFLICT HAPPENS:
Ongoing in 2016

Community Mediation Upper Shore can help with free, confidential mediation services in Queen Anne's, Kent and Cecil counties. Call 410-810-9188 or E-mail
cvcms@verizon.net
for more information.

"Ride Share to DC"
Ongoing in 2016

Anyone interested in sharing a ride to work from Kent Island to Washington, DC on a daily basis? Share gas and expenses and we can use the commuter two-man express lanes. I presently work in Anacostia, Bolling AFB, Washington, DC. If interested, please call 703-643-7073.