Blackwater Distilling™ - 184 Log Canoe Circle, Stevensville, MD 21666 - (443) 249-3123
Email: info@sloopbetty.com
Blackwater Distilling is now open for FREE tours and tastings Fri-Sun 12pm-6pm located on Log Canoe circle in the business park in Stevensville! We'd love for you to come in and see how our multiple Gold Medal-winning Sloop Betty Vodka is made, taste Sloop Betty, Sloop Betty Honey (made with Eastern Shore honey) and the new products we're working on (including a rye whiskey), and learn how to make your own flavored vodka by infusing herbs, spices, and local produce!



Polar Bear Plunge with Big Bats & KIO:
January 25, 2015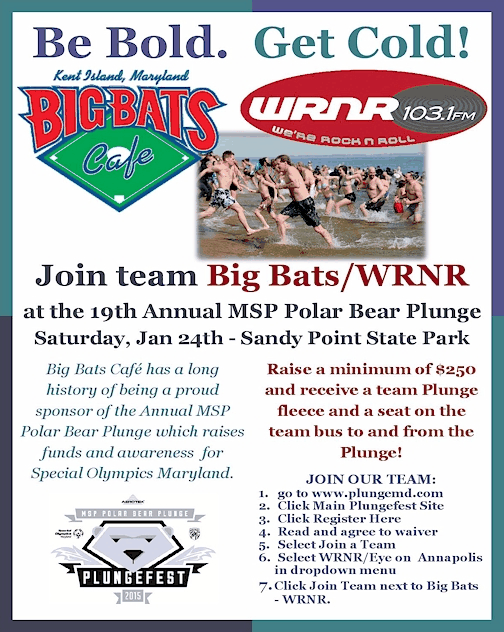 Eastern Shore Bridal Extravaganza:
January 25, 2015

The Easton Shore Bridal Extravaganza will be held from 12:30 to 3 pm on Sunday, January 25th at the Milestone Event Center, located at 9630 Technology Drive in Easton. This event gives brides-to-be the opportunity to meet with vendors from across Maryland to discuss their wedding needs and take a closer look at the services offered. At noon, a fashion show will be hosted by DelMarvalous Occasions, of Salisbury. Please note that seating for the fashion show is limited.

The event will conclude at 3 pm with the grand prize drawing, generously donated by Occidental Resorts and Oasis Travel. The fabulous prize includes 4 days/3 nights at the Royal Hideaway Playacar by Occidental Resorts. All brides-to-be registered for the grand prize and present for the drawing at the 2015 Eastern Shore Bridal Extravaganza are eligible to win the grand prize.

Tickets are $10 in advance; $12 at the door.


QAC Centre for the Arts Announces "LOVE IS RED" Winter Show Opening:
January 30, 2015

Queen Anne's County Centre for the Arts will open "LOVE is RED", a gallery exhibition celebrating love and the color red, with a public reception Friday, January 30th, at 5 pm. A variety of art including photography, painting, sculpture, mixed media and more will be included in this exciting show open to all artists. With the snuggle-up days of winter here and Valentine's Day just around the corner, it seems appropriate that artists are expressing the many manifestations of love in art. Emphasis for this show is on the color red and the subject of love in many forms. Warm red colors, hearts, and flowers will be representative of the many possible whimsical interpretations of the theme. We have carried the theme of the "LOVE IS RED" show into our Paint Brush Party on January 23rd – instructor Sarah Lyle has created an "Artsy Heart" for attendees to create.

These exhibits offer artists and audience members an excellent opportunity to participate in a show that reflects the diversity of regional artwork. This show will run from January 30th to February 26th. All work will be available for sale and a portion of the proceeds will benefit Queen Anne's County Arts Council's programming. The Centre is located at 206 S. Commerce St. in Centreville, MD. Hours are Tuesday through Friday from 10 am to 4 pm and Saturday by appointment.

For more information please visit us at www.queenannescountyarts.com or email info@queenannescountyarts.com. The Queen Anne's County Arts Council, Inc., is a non-profit organization committed to promoting, expanding and sustaining the arts. All donations are 100% tax deductible.

"SEAFOOD FEST" to benefit Chesapeake Cats & Dogs:
February 21, 2015

Sat. Feb. 21, 2015 from 6-10pm is the "SEAFOOD FEST" to benefit Chesapeake Cats & Dogs at the KI American Legion Post #278 - Stevensville, MD.
Alaskan Snow Crab Legs, Prince Edward Island Steamed Mussels, Shrimp, Soups, Pulled Pork, Sides and Draft Beer included! Cash Bar available. Rock out with the awesome band "BARCODE"!

Tickets are $40 ($45 at the door) and can be purchased at CCAD Adoption Center, Bev's Grooming, online at www.chesapeakecatsanddogs.org or by calling 410-533-5020 or 410-643-9955.


Kent Island Farmers Market:
Thursdays, 2015

Kent Island Farmers Market - Every Thursday from 3:30 PM - 6:30 PM at Christ Church, 830 Romancoke Rd, Stevensville.

We are a producer only market featuring raw milk artisan cheeses, yogurt made with local Maple and honey, sustainable wild caught seafood, local wheat artisan breads, grass fed beef, local heirloom fruits & vegetables and produced by farmers from the Chesapeake Bay region.


Taylor's Fresh Organics Delivers:
Spring / Summer 2015

Our local family farm is dedicated to providing healthy, organic, real vegetables and fruits for your family - while building a sustainable future together with our community. We are a certified organic fifth generation Eastern Shore farm. Get 20 weeks of locally grown produce, starting mid-May at $25 a week full share or $13.75 a week half share.
Call Madelin Berger at 443-515-0323 for farm-fresh, locally grown produce delivered every week, all season long and visit us online at: www.taylorsfreshorganics.com


1st Alert CPR Training:
Ongoing in 2015

1st Alert CPR Training located near Easton, MD We are career firemen/EMT's that know the importance of good training. As American Heart Association instructors we believe that everyone can benefit from CPR and first aid training. 2-year certifications and we can come to you or classes in the Preston area. Call Jay 443-496-2464 or Email 1stalertcpr@comcast.net for more information.

Tuesday Evenings - Harmony On The Bay:
Tuesday Evenings in 2015

Harmony on the Bay is a Sweet Adeline Chorus. New members are welcome to learn and sing popular tunes in four-part harmony. Join us on Tuesday evenings at 7:15pm, Centreville United Methodist Church in Centreville, 608 Church Hill Road (Rt. 213) For more information call Claudia 410-924-0013 or Joanne 410-763-7920.


The Vipers have arrived on the Eastern Shore!!:
Upcoming 2015 Season

CBC/Island Elite All Stars are now Vipers Cheer & Dance!! Check out our Website for information on our Summer Camps, Tryout Dates, and Open Gym! http://www.viperallstars.com/index.php


RESET Program:
Ongoing in 2015

Our youth and young adults are being offered a drug and alcohol educational experience to change their behavior and attitudes. The RESET program is an alternative sentencing option for the judicial system. Parents may also enroll their teenagers without an arrest taking place allowing RESET as an early intervention.
RESET serves 14 to 24 year olds who have fallen victim to drug and alcohol use or are "at risk". The program serves as an alternative sentencing option or condition of probation by the Courts. RESET is an early intervention education program involving many agencies, volunteers, professionals and facilities. The program serves the upper shore counties.

The program is presented on three Friday nights and one Saturday night, utilizing the Queen Anne's County Sheriff's Office, Chester River Hospital, Queen Anne's Circuit Courthouse and the Queen Anne's County Detention Center. Classes begin promptly at 5:45 pm and end at 9:00 pm. The next classes begin May 20th and conclude on June 3rd.

The September class will begin in Kent County at the 911 Center and then utilize the normal locations for conclusion of the program.


Adult Home Bible Study:
Ongoing in 2015

Adult Home Bible Study forming soon on Kent Island. Call 443-249-3534 for more information. Thoroughly Christian (not a cult), just honest Bible Study for beginners through scholars alike. Come check out God's Word!


Chesapeake Voyagers, Inc. Seeks Board of Directors Members:
Ongoing in 2015

Chesapeake Voyagers, Inc. (CVI) seeks volunteers to serve on its Board of Directors. Board members must live in the mid-shore region and have an interest in mental health. Preference is given to applicants who are receiving or have received mental health services. The Board of Directors, composed of both consumers of mental health services and other residents of the region having a professional or personal interest in mental health, is responsible for the governance of the organization.

CVI, a non-profit organization (501 (c)(3) pending), advocates for and supports consumers of mental health services in the mid-shore region. It provides peer support through formal programs and informal group and individual interaction at its wellness and recovery centers in the mid-shore region.
To apply for appointment to the Board of Directors, please send a letter of interest and a resume or bio to Sheila Tolliver, President, Chesapeake Voyagers, Inc., 342-C North Aurora Street, Easton, MD 21601 by June 6, 2010 (or email to sheilatolliver@gmail.com).


Queen Anne's County RESET Program:
Ongoing in 2015

Queen Anne's County RESET Program offers parents an opportunity to enroll their children who are "at risk" of becoming involved or who are involved with alcohol and minor drug use. The RESET Program mission is to change attitudes and behaviors through education. RESET serves parents, Courts, Juvenile Services, Teen Court, Board of Education, Health Department and the State's Attorney's Office in providing an intervention education for those who have been found/suspected of being involved in drug and alcohol related incidents. RESET conducts four classes (3 Friday nights and one Saturday night) providing education of short term and long term effects involving alcohol, marijuana, cocaine, heroin, ecstasy and prescription medication as well as informing the students how these drugs effect the family and the community. A visit to the Chester River Hospital educates our students learn what occurrs from accident scene to shock trauma and how drugs and alcohol may interfere with treatment. A visit to the Circuit Courtroom allows our students to learn the laws and penalties involving drugs and alcohol from State's Attorney Lance Richardson and Agent Broughton from Parole and Probation. Guest speakers also share personal experiences to provide our students with "real life" experiences from community members. A tour of the Queen Anne's County Detention Center allows our students to understand how their lifes will change and hear the details of prison life from the inmates. RESET involves homework and 100% involvement by the student. Student fee: $130. Classes are from 5:45 pm until 9:00 pm. For more information: Terry Ober 443-995-5367. Classes are conducted quarterly or as needed.


Discovery Toys are available through Barbara Thomas of Stevensville, MD:
Ongoing in 2015

Discovery Toys has offered quality educational toys and products for over 30 years, promoting learning through play. Play is the way children learn in their early years and all of the toys are designed to promote learning and development in infants through elementary school aged children. Host a party and earn free products or order online 24 hours a day at www.discoverytoyslink.com/barbthomas. Discovery Toys offers great fundraising programs, especially for businesses that need toys - daycare centers, nurseries, preschools etc. Contact Barbara for more details - barbthomas@atlanticbb.net. This is also a great opportunity to make additional income, earn money while promoting education and learning. Let me know if you would be interested in doing what I do!


Studio 180 Dance Classes:
Ongoing in 2015

Studio 180 Dance is starting the New Year with a new semester of classes for all ages, 2-adult. To view our schedule, please visit us at www.studio180dance.com. The Winter/Spring 2009 schedule is posted under classes, spring schedule. Register today to get ready for our recital in June!

Among our newest classes are:
Zumba, a latin rhythm dance exercise class for adults, Wednesdays 7-8pm and Saturday 10-11am
Pre HipHop ages 4-6, Saturday, 10-10:30am
Pre Lyrical ages 4-6, Saturday, 10:30-11am
Hip Hop 1a ages 7-11, Saturday 2-2:45pm
Modern 1a ages 7-11, Saturday 2:45-3:30pm

You may purchase a 10 class card for all classes except aerial for $180 or a 15 class card for $270. Aerial class cards are $375 for 15 classes.

For more information please visit our website at www.studio180dance.com or call us today at 410.268.5299.

Band Members Needed!
Ongoing in 2014

The Kent Island Community Band is currently looking for new members. We are looking for musicians who play trombone, euphonium, tuba and percussion, but all concert band instruments are welcomed. We rehearse on Tuesday evenings from 7pm to 8:30pm in the band room of the Stevensville Middle School, 610 Main Street, Stevensville, MD 21666. For more information, visit www.kicb.org or call Dee Dee Miller at 443-995-2297.


"Pride of the Bay Pirate Chorus:"
Ongoing in 2015


Under the direction of Tom Sterling, our local chorus includes members from all over the Eastern Shore and from other towns over the Bay Bridge.

The chorus meets every Wednesday night at 6:30 at the Cadby Theatre in the Humanities Building at Chesapeake College in Wye Mills, Maryland.

For more information please call Jack Walsh at (443) 262-9449


Sign Language Classes Offered
Ongoing in 2015

Kids Can Sign is offering sign language classes for children at the Xtreme Bounce Zone in Millersville. Classes are geared toward Babies (ages 1-24 months) and their caregivers as well as Toddlers (ages 2-4 years). Discover the many benefits of using American Sign Language (ASL) with children in a fun and relaxed environment. Signing provides pre-verbal children a way to communicate, helping to avoid frustration. It increases fine motor skills, verbal skills and literacy skills. Most of all, signing is a fun way to spend time with your child. Call today to find out more. 410-421-5843


"I Love Someone With Lymphoma" - Supporting Sarah Meyers:
Date: Ongoing in 2015

Please help local resident Sarah Meyers!
To donate directly please send to:
Sarah Meyers Fund
P.O. Box 224
Chester, MD 21619
Thanks to everyone in the community for helping out!
-Kent Island Online


CONFLICT HAPPENS:
Ongoing in 2015

Community Mediation Upper Shore can help with free, confidential mediation services in Queen Anne's, Kent and Cecil counties. Call 410-810-9188 or E-mail
cvcms@verizon.net
for more information.

"Ride Share to DC"
Ongoing in 2015

Anyone interested in sharing a ride to work from Kent Island to Washington, DC on a daily basis? Share gas and expenses and we can use the commuter two-man express lanes. I presently work in Anacostia, Bolling AFB, Washington, DC. If interested, please call 703-643-7073.