1430 WNAV-AM / Annapolis, MD / Adult Contemporary / News / Sports


1430 WNAV is located across the bridge in Annapolis, but they do actively cover Kent Island, and they have a strong signal here too. WNAV plays an eclectic mix of adult contemporary hits, plus offers plenty of local and national news, and sports coverage. WNAV is completely live, absolutely no automation, deceptive "voice-tracking", or syndicated programming, aside from some sports coverage (like Orioles Baseball (which comes from WBAL-1090AM). WNAV offers a toll free number for Eastern Shore residents to call in requests or news info, as well as for calling in to their many public affairs shows like "The 1430 Connection" heard Fridays at 10AM. WNAV also offers a local oldies show on Saturdays at 3PM, and a big-band show on Sundays at 9PM. This is the station to listen to for local news and traffic during the week.


103.1 WRNR-FM / Annapolis, MD / Progressive Adult Rock
WRNR "Radio Annapolis" is an adult oriented alternative rock station that broadcasts 6KW from Grasonville - about 6 miles east of Kent Island. Their studios are in Annapolis. WRNR-FM started off as a freeform progressive rock station, owned by radio pioneer (and former WHFS owner) Jake Einstein. The original air staff talked up everything from politics, to pop-culture...and spun their own hand-picked music - just like the original WHFS. Einstein sold the station to "Empire Broadcasting" who kept the same music format, but cut down on the chatter and focused more on the music. WRNR has a very large music library and plays a wide variety of music that goes from popular alternative acts, to unknown indy artists. One of the more unique and popular radio stations in our area.


96.7 WCEI-FM / Easton, MD / Adult Contemporary
WCEI's studio is located about 25 miles south of Kent Island in Easton and the transmitter is on the QA County / Talbot County line. The music is aimed at women, and could be considered "soft rock". WCEI offers local news, traffic, and school closing info for Kent Island and the rest of the Mid-Shore area. WCEI features "The Morning Rush" with Matt Spence & Kelly Lynn, well known local personality "Big Dob" O'Brien doing mid-days, Don Bumpus in the Afternoon Drive, along with the syndicated "Delilah" in the evenings. WCEI focuses on the Mid-Shore area, but has a very large coverage area that reaches both Baltimore and Washington DC.


94.3 WINX-FM "Shore Country 94.3" / Trappe / Country
94.3 was a religious station for many years, but was bought by WRNR and flipped to country music in 2005. In 2008 WINX was sold to the owners of Easton's WCEI-FM and the studios were moved to Easton from Annapolis. WINX broadcasts from Trappe, right on the Choptank River. The signal is receivable, but not strong on Kent Island like WCEI's signal.


90.5 WKHS-FM / Worton / Various / WXPN Relay
Kent County High School's powerful radio station carries student programming during school hours, community volunteer DJs in the late afternoon/evenings, and relays Philadelphia's eclectic WXPN-FM on overnights and Weekends. Great programming such as oldies, R&B, Alternative Rock, Folk, and many other types of music. Well worth a listen.


97.5 WRYR-FM / Sherwood, MD / Various
WRYR-LP97.5 went on the air in June 2002. Their transmitter is on Tilghman Island, only about 8 miles south of Kent Island across the water - but at only 100 watts from an 80 foot tower, WRYR only covers about half of Kent Island. WRYR-LP (low power) mainly serves Southern A.A. county (owned by the "South Arundel Citizens for Responsible Development - SACReD") on the Western Shore, even though most of their signal coverage is really on the Eastern Shore.


100.9 WAAI-FM / Hurlock, MD / Country
100.9 WAAI is one of the most popular stations in the Easton-Cambridge area. They play a wide variety of country music and have a few specialty shows such as a classic country request show on Saturday mornings, and a NASCAR show on Mondays at 6PM. WAAI has local news and info, but primarily focuses on Dorchester and Talbot counties. WAAI has some signal problems here on Kent Island do to WWDC-101.1 (DC101) in Washington causing signal interference. Most people that are country music fans seem to listen to Baltimore's WPOC-93.1 because of the stronger signal in this area. WAAI is owned by MTS Broadcasting, along with WCEM and WTDK.


106.3 WCEM-FM "The Heat" / Cambridge, MD / Hot A.C.
"106.3 The Heat" is a hit music radio station focusing on pop-music that appeals to women over 25. They broadcast out of Cambridge, which is about 35-40 miles south of Kent Island. "The Heat" has a decent signal in the car, but can be a bit of a catch at home due to some signal interference from Baltimore's "Mix 106.5". "The Heat" primarily focuses on Talbot and Dorchester Counties, but on occasion will have some info on Queen Anne's County. WCEM has an award winning news operation that serves it's coverage area very well. If they only had a stronger signal here, they probably would be very popular on Kent Island. Owned by MTS Broadcasting who also owns 107.1 WTDK and 100.9 WAAI.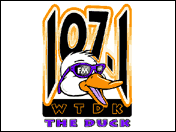 107.1 WTDK-FM "The Duck" / Federalsburg, MD / Oldies


107.1 "The Duck" is an upbeat oldies station playing music from the 50's, 60's, and 70's. "The Duck" has a live Morning and Afternoon Drive show, as well as some automated shifts from "Jones Radio Network", a supplier of professional satellite fed talent. WTDK is home to Maryland Terrapin Football (Go Terps!), as well as the flagship station for the Delmarva Shorebirds minor league baseball team out of Salisbury. "The Duck" serves Caroline, Talbot, Kent and Dorchester counties, but is receivable in parts of Queen Anne's County, and is often the only Mid-Shore radio station to get ratings in the Salisbury market. WTDK is owned by MTS Broadcasting, along with WCEM and WAAI.



840AM WKDI / Denton, MD / Religious
840 AM WKDI broadcasts 1000 watts out of Denton, so the signal is a bit scratchy on Kent Island. Primarily bible teachings and other various religious services.


1530AM WCTR / Chestertown, MD / Nostalgic
"The Voice of Kent & Queen Anne's counties" 1530 AM WCTR is a daytime only station, broadcasting 1000 watts out of Chestertown. WCTR broadcasts ABC's "Unfogettable Favorites" format (AC/nostalgia). You're likely to hear the Beatles, followed by Lee Greenwood, followed by Neal Diamond, followed by Elvis, followed by Toby Keith, followed by the Mammas and the Pappas. Whatever the genre, if it's a truly great hit that everyone knows, it gets played. WCTR has a lot of live, local coverage. There is a 2-hour morning show from 7-9am with Dick Myers and John Link, a morning and afternoon sports reports with Coach Andy Moloney, a noon time local interview show called "Shore Spotlight", the "Saturday Morning Jukebox" with Bill Blake, live coverage of Washington College and high school sports from Kent & Queen Anne's counties, weekend live remotes from around both Kent & Queen Anne's counties, etc etc. They also air Paul Harvey and Johnny Holiday sports, as well as local and marine weather and traffic reports.



1460AM WKHZ / Easton, MD / Hits-Classic Hits
Part of a mini-network of AM stations (along with 810AM WYRE, 1330AM WJSS, 970AM WAMD) in Maryland called "KHZ Radio" that plays a mixed bag of pop music with a yester-year sound to the whole station.