WMAR-TV
/ CH.2 /
(ABC)
Baltimore's ABC affiliate WMAR ABC2 has greatly improved in the last year or so. WMAR has been consistantly in third place in the ratings was against WBAL and WJZ for about as long as I can remember. Last year they finally did some much needed changes. WMAR added area TV vets Stan Stoval and Norm Lewis to their roster - giving the station a much needed community connection. They revamped the stations graphics and even changed the identity of the station to "ABC-2". WMAR now has a sharp looking newscast along with talent that people in their area know and trust. ABC network programming has also improved over the last year, so the timing was perfect to rebuild the station's on air look. WMAR also has a great website, complete with a live 5PM feed of their news.
WMAR's weather radar
is the only TRUE LOCAL (WJZ gets theirs from intellicast.com and WBAL gets theirs from wx.com) radar provided on the internet, and it's updated every 3 minutes.


WBAL-TV / CH.11 / (NBC)
WBAL is probably the most professional looking TV station in Baltimore. WBAL's "Hearst" news set is similar to the WBFF/WNUV set, with the anchors sitting at a round table, and the sports anchor having a big screen monitor next to him. This is a standard look for all Hearst owned stations such as Harrisburg's WGAL-TV. The graphics are nice, a blue non-obtrusive font that doesn't cover half of the screen like their old graphics. Nice move on the new look, even if it is a bit of a copy of another newscast. WBAL pretty much just relays NBC network programming with top-notch syndicated fare, no local productions. Too bad because they would probably be done very well. The morning local cutaways from NBC's "Today" show are great. They look equally as good as the network feed, not like hokey WJZ. Probably the biggest problem with WBAL news is that the anchors are kind of generic. Cross town rival (WJZ) has anchors and reporters that the community seems to know by name, while WBAL doesn't seem to allow the anchors and reporters to have much of a personality. Aside from that, WBAL has a very good local newscast for the area.



WJZ-TV / CH.13 / (CBS)
WJZ billes themselves as "Baltimore's Favorite Newscast", and they do have a dedicated following. WJZ is usually the news ratings winner in Baltimore in most time slots - although WBAL is now even in a lot of dayparts. WJZ revamped their set not too long ago, which was long overdue. They now have a rather standard set with Baltimore city in the background, some monitors behind the anchors, and a standard bookcase set. It's a newscast in your living room type set. WJZ was still using a chroma blue set up until 1998! They still have ugly graphics, especially the solid blue and gold wedge "WJZ 13" bug. They shoot the talent way to close up, so you can see their eyes reading the prompters, which looks really bad. As an outsider to the market the talent may seem real hokey. The guys in the morning have accents, they gab a lot, etc....but the locals love that. The talent have also been at WJZ a long time, giving the station a real local community feel. WJZ was the first station to get a helicopter in the Baltimore area, beating out WBAL by a few days. Now they have the right ingedients for a good newscast, they just have to get better graphics, lose the bug, and back off on the close ups. Hey, at least they now look equal to the rest of the competition.



WUTB-TV / CH.24 / (My-24)
My24 is the areas newest station. It used to be a Home Shopping Channel affiliate until the Winter of '97, when it became a UPN affiliate. When UPN merged with The WB to form 'The CW', WUTB became part of the FOX owned "My" network of sorts. They are now "My 24", with a lot of first run and old syndication fare right now. They do absolutely no local productions. They run the station out of Secaucus, N.J. and fiber it down to the Baltimore transmitter. I can't bash them too much, because they are still new. I really don't like the idea of running the station out of NJ's WWOR-TV studios. It should be a local Baltimore station. Is it really cheaper to run "Good Times" out of New Jersey?



WBFF-TV / CH.45 / (FOX)
WNUV-TV / CH.54 / (CW)
WBFF "Fox 45" has an hour long 10pm newscast - which explains the hour long 10PM re-runs on WNUV, so as to not compete. Most of their news is done by outside sources, like "CNN Newsource" and "Fox News Edge". The set is pretty bad. The Anchors sit at a round table that looks like an extra from the set of Star Trek. The lighting is bad, shadows are everywhere- probably no dimmer panel. I was told by a producer that they don't have a digital clock in the control room! A real low budget operation! Lots of technical problems plague this newscast. Every day there are head clogs on taped bumpers and packages, and they must use old tape because I always see beta drop out. With all of that in mind they do actually pull off a decent newscast. The anchors are pretty good, even the fill-ins are good. The station doesn't do any local productions that I know of, and that's probably a good thing. WNUV-TV is part of the new "CW Network" which was created when the UPN and WB networks merged in 2006. They have no local news.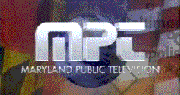 MPT / Various / (PBS)
"Newsnight Maryland" is the name of their evening newscast. It's not very good, barely passible! On any given night, the technical problems that plague this newscast can make the program quite laughable. Tapes not being cued up, equipment malfunctions, and the wrong taped stories being run is a pretty regular thing here! The set is kind of dark and gloomy, but the anchors make up for it. MPT shows the usual kiddie fare during the day, and educational / documentary fare at night. MPT is a pretty basic PBS affiliate with a bunch of simulcaters around the state.


CrabTV / Various / (Internet)
Internet TV station that celebrates all things Maryland. Streaming video footage of Baltimore area festivals, cooking shows, advice shows, and much more.


CLICK HERE FOR BALTIMORE RADIO STATIONS